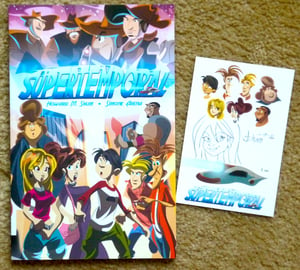 $

15.99
Three scientists from NASA's Jet Propulsion Laboratory build a time machine and go a hundred years in the future. They discover that there are no longer any humans around. They realize that something happened on a specific day in 2053 that caused it. They go to that day to find out exactly what and to see if they can prevent it from happening.
Written by Howard M. Shum and art by Simone Arena. 144-page trade paperback. Full color.
The graphic novel comes with a limited edition (only 100 printed) bookplate signed by Howard with a character head drawing.
See more art at Supertemporal
"Supertemporal takes a dash of Independence Day, adds in a bit of Big Bang Theory and creates an action-packed summer blockbuster of a comic that has just as much heart as it does Giant Alien Robot Enforcers. This is comics done right." — Rob Guillory, Eisner Award-winning artist of Chew