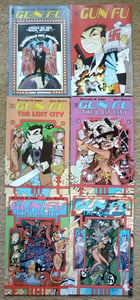 $

21.00
Gun Fu #1 (one-shot), Gun Fu: The Lost City #1-4, and Gun Fu: Showgirls are Forever #1 (one-shot co-written with Cerebus creator Dave Sim). This is every published Gun Fu comic book, 6 issues total. By Howard M. Shum and Joey Mason.
All copies signed by Howard. You also get a free random piece of original art by Howard
You can preview art here: Gun Fu
"Gun Fu is an explosive blend of the best films of John Woo, 007 and Indiana Jones with a wonderful graphic style, similar to some of the very best from the Cartoon Network. A tremendously fun read. I wish I had thought of this!" -- J. Scott Campbell, Artist and Creator of Danger Girl
"Guns, beautiful blondes, giant Nazi robots, and a crazy Asian guy - Gun Fu is a fun book with a nice blend of Hong Kong action flicks and Dexter's Laboratory." -- Frank Cho, Artist of Liberty Meadows and The Avengers.