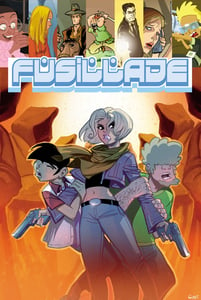 $

15.99
A collection of character-driven action stories in various genres (fantasy, science-fiction, horror, western, gangsters, etc.) featuring spectacular art by visionary artists from Italy, France, Mexico, and the United States.
Written by Howard M. Shum. Art by Antonello Dalena, Rad Sechrist, Armando M. Zanker, El Gunto, Régis Donsimoni, Francesco Abrignani, Lelio Bonaccorso, and Dustin Foust. 144-page trade paperback. Full color.
Signed by Howard M. Shum and Rad Sechrist.
You can preview art from the book here: Fusillade
"These highly enjoyable, cleverly written and beautifully drawn stories make this graphic novel anthology a great addition to anyone's comics library. Loved it!" -- Leinil Francis Yu, artist of Wolverine, X-Men, New Avengers, Secret Invasion, and Superior
Fast-paced, violent, and often funny, the world of Howard Shum's 'Fusillade' is a great place to visit--unless you're a bad guy, then prepare to get dead." -- Jose Arroyo, writer on Conan, The Tonight Show with Conan O'Brien, and Late Night with Conan O'Brien